Add: North Tower,Beiming Ruanjianyuan, No. 1,Sicheng RD., Tianhe District, Guangzhou City, China.
Tel: 020-85207885
Fax: 020-85207857
Email: [email protected]
ZEBRA
Your position: Home > ZEBRA
Zebra ZEBRA GK420T Label Printer
Brand: Zebra/Zebar
Model : ZEBRA GK420T
Resolution: 203 DPI
Product description: Zebra ZEBRA GK420T Label Printer
Product introduction
Product overview
G Series GK model inherits the traditional durability and reliability of Zebra. It is the most valuable of all basic desktop thermal printers. If you want to save as much space as possible, the smallest 4 inch direct thermal desktop printers (Zebra GK420t and Zebra GK420d) will meet your needs if you want to do your best. It may save working time, so a direct thermal/thermal transfer printer (GK420t) with an ultra-convenient carbon belt loading system will be your ideal choice.
Zebra GK420 direct heat/heat transfer printer uses Zebra's convenient carbon belt-loaded heat transfer technology, which can print hard Label images that can be stored for a long time, and receipts and Labels that can be used indoors for a short time. Zebra GK420t is suitable for any industry environment. In addition to its fast print speed (up to 5 inches per second), it also provides USB/serial interface and optional 10/100 Ethernet connection options.
Zebra GK420T bar code printer has very fast printing speed and first-class printing performance. With reliable performance, durability and flexible use, GK420T printer can meet almost all small and medium batch printing applications and budget requirements.
Zebra ZEBRA GK420T Desktop Barcode printer
1. Adhering to Zebra's traditional durability and reliability, it is lightweight and occupies very little space.
2. It has an ultra-convenient carbon belt loading system, which has fast printing speed and less loading time, and greatly improves the working efficiency.
3. Printing function is complete and hard Label image can be printed.
4. USB/serial interface and optional 10/100 Ethernet are provided.
Application of Zebra ZEBRA GK420T Desktop Printer
Applicable industries include: government, medical, manufacturing, consumer goods, retail services, transportation and logistics industries.
Used for: Asset Management, Baggage License Documentation and Record Management Inventory, Laboratory Sample Management, Tracking Receipt/Delivery, Reverse Logistics, In-process Tracking Personal ID and Access Control, Safety Invoice and Receipt, Formula Compliance Label, Recipe Information Label, Medical Record Label, Order Label Photo, Processing Label, Prescription Labels, price tags, quality control radiology, etc.
Characteristics of Zebra GK420T Desktop Printer

Printing speed: up to 5 inches (127 millimeters) per second

OpenACCESS Design for Easy Media Installation

Fast and Simple Carbon Belt Loading System

Double-Layer Reinforced Plastic Structure

32-bit RISC processor

Support for XML Printing

Printing Method: Thermal Printing/Thermal Transfer Printing

EPL and ZPL programming language standards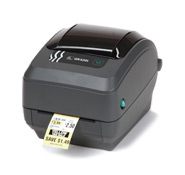 technical parameter

Zebra GK420T Printer Specification

Resolution: 203 DPI (8/mm)

Memory: Standard: 8 MB SDRAM (3 MB actually available for end users);


4 MB flash memory (1.5 MB is actually available for end users)

Print width: 4.09 inches (104mm)

Print Length: 39 inches (991 mm)

Printing speed: 5 inches (127 millimeters)/second

Dielectric Sensors: Reflective and Transmission


Dielectric Properties of Zebra GK420T

Maximum Label and Backing Width: 4.25 inches (108 mm)

Minimum Label and Backing Width: 0.75 inches (19 mm)

Maximum label and base length: 0.38 inches (9.7 mm) to 39 inches (991 mm)

Maximum coil diameter: 5 inches (127 mm)

Core diameter: 0.5 inches (12.7 mm), 1.0 inches (25.4 mm), 1.5 "(37.1 mm)

Dielectric thickness: 0.003 inches (0.08 mm) to 0.0075 inches (0.20 mm)

Medium Types: Black Strip Paper, Black Label Paper, Continuous Paper, Continuous Receipt, Die Cut Paper, Folding Paper, Gap Paper, Concaved Paper, Perforated Paper, Receipt, Roll Paper, Label Paper Materials

Characteristic of zebra GK420T carbon band

Outside diameter: 1.34 inches (34 mm)

Standard length: 244 feet (74 meters)

Ratio: 1:1

Ribbon width

It is recommended to be at least as wide as the medium.

1.33 inches (33.8 mm) to 4.3 inches (110 mm)

Core inner diameter: 0.5 inches (12.7 mm)

Working Characteristics of Zebra GK420T

Working temperature TT: Working temperature: 40 degrees F (5 degrees C) to 105 degrees F (41 degrees C)

Thermal Transfer DT: Working Temperature: 40 degrees F (5 degrees C) to 105 degrees F (41 degrees C)

Thermosensitive storage temperature: - 40 F (- 40 C) to 140 F (- 60 C)

Working humidity: 10-90%, no condensation

Storage humidity: 5-95%, no condensation

Electrical characteristics of zebra GK420T:

Automatic Detection (PFC Compliance) 100-240 V

AC, 50-60 Hz

Institutional accreditation

FCC Part 15

Subpart 15

VCCI

C-Tick

EN55022 Class-B

EN6100-3-2

EN6100-3-3

EN55024

CCC

CB Scheme IEC 60950:1991+A1+A2+A3+A4

TUV NRTL

IRAM

NOM

AAMI

Physical Characteristics of Zebra GK420T

Width: 7.6 inches (194 mm)

Height: 7.5 inches (191 mm)

Depth: 10 inches (254 mm)

Weight: 4.6 pounds (2.1 kg)

Packing weight: 9.1 pounds (4.1 kg)

Direction center

Related products

option

10/100 Internal Ethernet Connection

Peeler - Label peeler with paper outlet sensor

Asian Font Set

Zebra GK420T Communication and Interface Function

Automatic Detection Serial RS-232 (DB-9)

USB V1.1, bidirectional

Centronics Parallel

10/100 built-in Ethernet (alternative to parallel ports)

Zebra GK420T Programming Language

Core programming languages: EPL2, ZPL I/ZPL II

Bar Code/Identification Code System

One-dimensional Codabar

Code 11

Code 128

Code 128 with subset A/B/C

Code 39

Code 93

EAN-13

EAN-14

EAN-8

EAN-8 and EAN-13 (with 2-bit or 5-bit digital extensions)

German Post Code

Industrial 2-of-5

Interleaved 2-of-5

Japanese Postnet

Logmars

MSI

MSI-3

Plessey

Postnet

RSS (Reduced Code)

Standard 2-of-5

UCC/EAN-128

UPC and EAN (2-bit or 5-bit digital extension)

UPC-A

UPC-A and UPC-E (with 2-bit or 5-bit digital extensions)

UPC-A and UPC-E (with EAN 2-bit or 5-bit digital extensions)

UPC-E

Two-Dimensional Code Aztec

Code 49

Data Matrix

MacroPDF417

MaxiCode

MicroPDF417

PDF417

QR Code

RSS/GS1 DataBar Series (12 Barcodes)

Fonts and graphics

16 built-in extensible ZPL II dot matrix fonts

A Built-in Scalable ZPL Font

Five built-in extensible EPL2 dot matrix fonts

Support user-defined fonts and graphics, including customer logos